Just had our pup done and he looks and smells amazing - best grooming he has gotten since we moved here!! We will for sure use them on a regular basis.
-Pam S.
Knowledgeable and professional! We have a giant schnauzer and a mini schnauzer who both received top-notch grooming from Dog People. Satisfied customers who will be back.
-Lisa Laking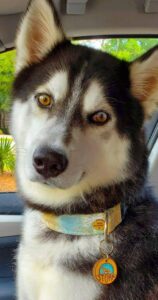 Storm looked so handsome after his "hair day" 
 We will definitely be back and recommend you!
- Storm The Shakespearean Huskey